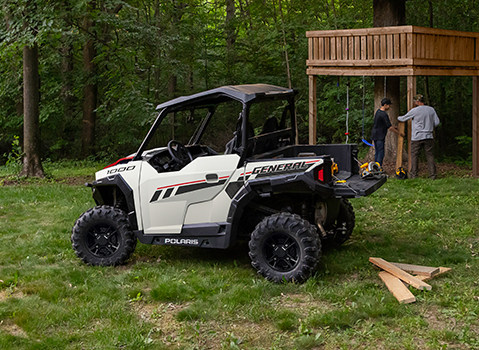 Performance Where It Matters
When it comes to being a leading adventure side-by-side, true performance is about more than just power.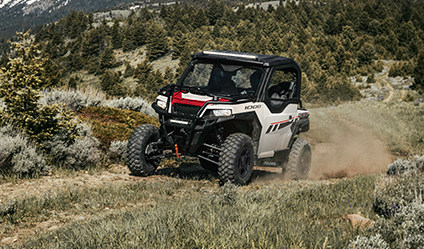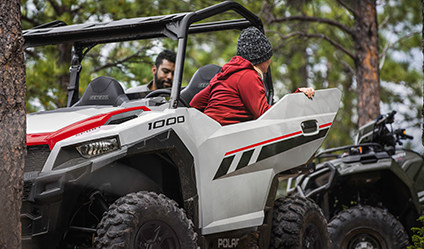 Added Capability for Max Fun
Maximize the good times with a machine that won't call it quits. GENERAL rides on a performance-inspired chassis that roars to life with a 100 horsepower engine and grips the ground with the fastest engaging all-wheel drive in all of off-roading.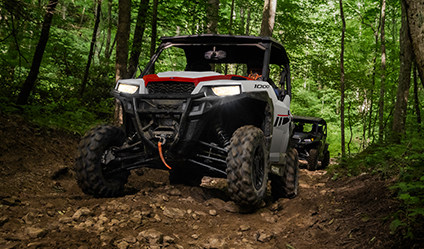 A full foot of class-leading clearance lets you float over obstacles and avoid damage to your machine while negotiating tough terrain.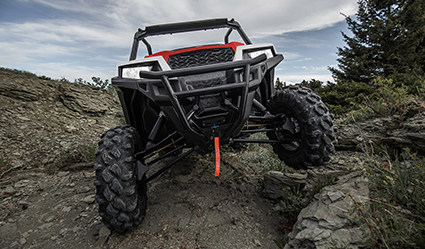 More Grip Where It Matters
Up to 14" aluminum rally wheels and 27" tires give you improved traction and increased confidence on rough terrain.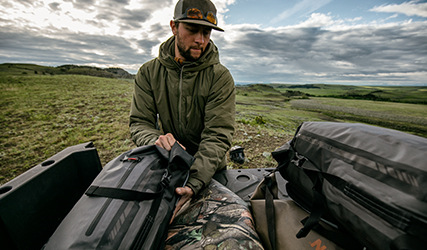 Be prepared with all the essentials for a long day of adventuring. A 600 lb dumping cargo box gives you the versatility to pack any gear you need for a successful overland adventure.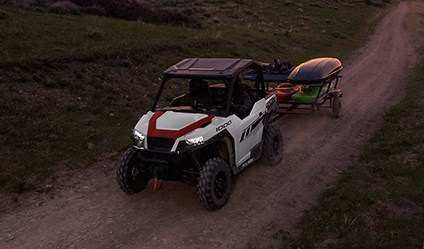 Whether you need to haul firewood or carry gear, drag logs or pull trailers, you can do it all with GENERAL's 1,500 lb tow capacity.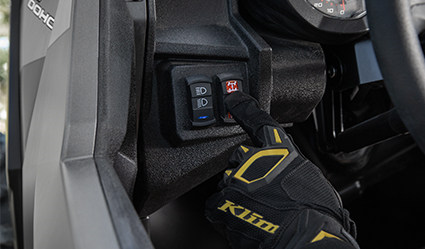 A dash-mounted switch instantly opens the rear differential to help protect your lawn from tire marks and enable tighter turns and increased maneuverability.
Versatility for Work & Play
GENERAL owners pride themselves on being ready for anything with a machine prepared for everything. From hauling to towing, winching to mowing, no side-by-side in the world is more versatile.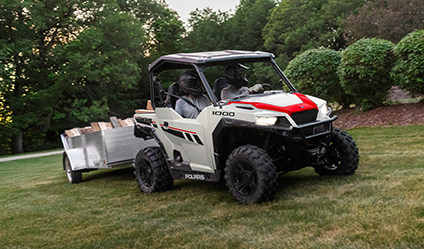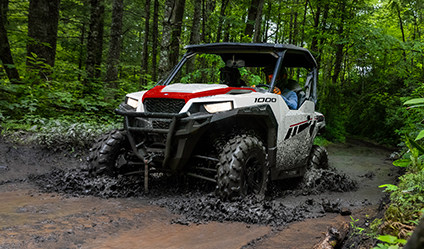 Longer is what makes a ride epic. And the longer your suspension travel, the longer you'll want to stay out on the trail. GENERAL helps you get more adventure out of your side-by-side with 12.25" travel up front and 13.2" in back.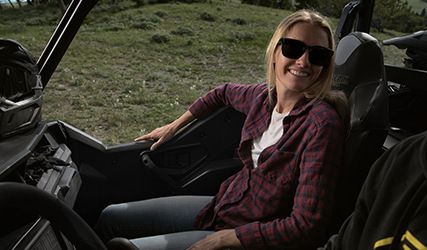 Designed to Fit Every Rider
GENERAL is purpose-built to fit both the driver and rider with tilt steering, a bolstered and sliding driver's seat, and adjustable seat belt height to keep everyone more comfortable over miles of rough terrain.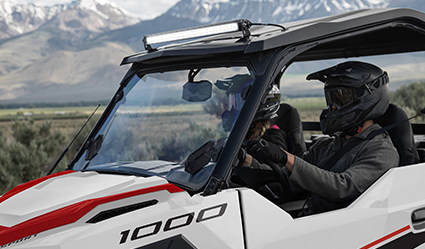 Comfort for the Long Haul
Spending the day riding trails is a whole lot of fun, and GENERAL offers the most comfortable ride of any adventure side-by-side so you arrive at your destination ready for what's next. Featuring class-leading suspension that makes quick work of bumps and ruts, smooth and responsive steering that delivers superior handling and bolstered bucket seats and improved rider ergonomics, GENERAL takes the edge off of all-day rides.
A day of rolling over bumps, ruts, rocks and logs can really take a toll. But thanks to class-leading suspension, smooth and responsive power steering, and stabilizer bars that deliver superior handling, you can put harsh in the rearview mirror.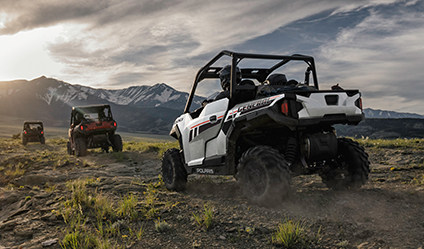 **Availability of some equipment, options and/or features, including Wi-Fi connectivity on RIDE COMMAND models, may be limited or not available due to global supply issues affecting our industry. Please continue to build your vehicle and request local dealer price but be sure to work with your local Polaris dealer to ensure the vehicle you purchase includes all expected features and equipment.

All pricing, specifications, claims, and information contained on this website are based upon current knowledge available at time of publication and are subject to change without notice, and Polaris assumes no responsibility for changes in pricing or specifications. Polaris assumes no responsibility for any inaccuracies, opinions, or omissions on this website. ©2022 Polaris Inc.