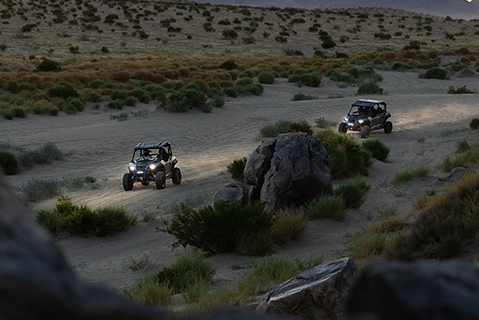 New RIDE COMMAND Updates Available for In-Dash Display
Elevate Your Adventure with
RIDE COMMAND Technology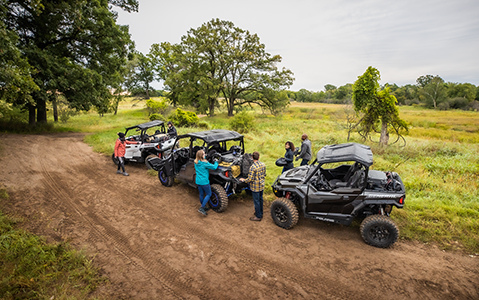 RIDE COMMAND makes confidently planning and navigating your routes easy by adding multiple stops and waypoints, and you can even share your planned route with friends.
With Group Ride you can ride at your own speed and keep fellow riders in sight on your map screen, even if you get split up - because rides are meant to be shared.
With over 1,000,000 miles of trails available offline, you'll have the confidence to explore further, whether you have cellular coverage or not.
Your tracks come alive with 3D flyovers that even show photos from your ride. Share your favorite experiences with friends even after the ride is over.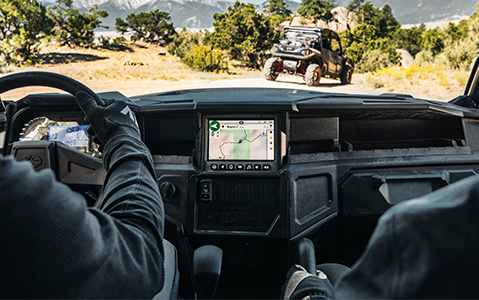 Ride with confidence knowing you have industry-leading technology leading the way, tracking the ride and keeping you connected.
GPS Navigation and Pre-downloaded Maps
Know the way with RIDE COMMAND. With GPS navigation and pre-downloaded maps available offline right on your in-dash display, you'll know just where to go, whether you have cellular coverage or not.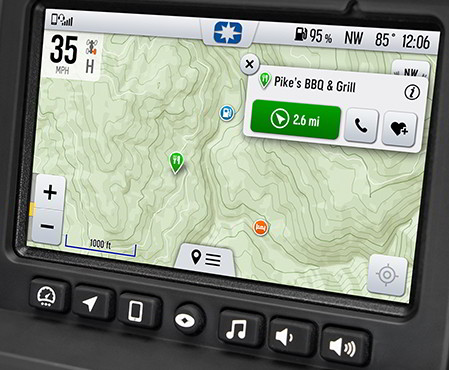 RIDE COMMAND makes planning your route and onboard navigation easy by adding multiple stops, points of interest and waypoints to be prepared and make the most of your off-road adventure.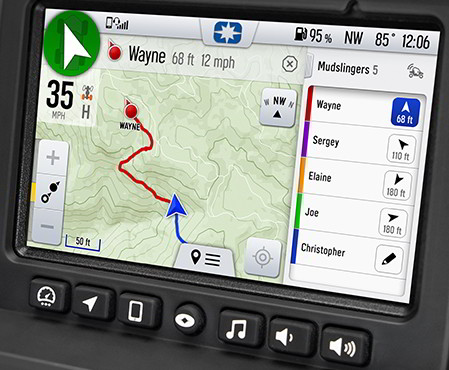 Communicate, navigate and stay connected with your group on any Group Ride. Use the Follow the Leader feature to select a group leader and follow their vehicle from your display. The new Group Ride Messaging feature sends messages to your group. Everything works with or without cellular signal.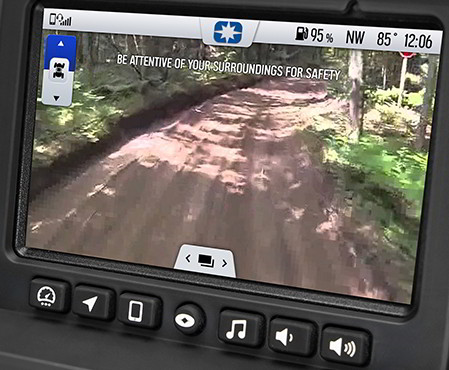 Whether navigating over rocky terrain or connecting a trailer, you'll know how to navigate with full view of your surroundings. The integrated front and rear cameras can also be used while you are in motion to see others behind you while you are riding.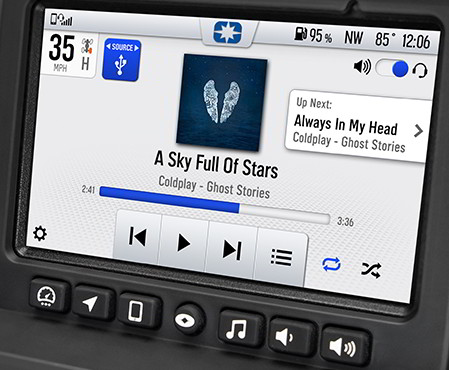 Personalized Audio Experience
Seamlessly pair to your RIDE COMMAND display via Bluetooth to wirelessly stream music and stay connected with call and text alerts. New automatic volume control adjusts your volume with your speed, so you can keep your hands on the wheel and never miss a beat.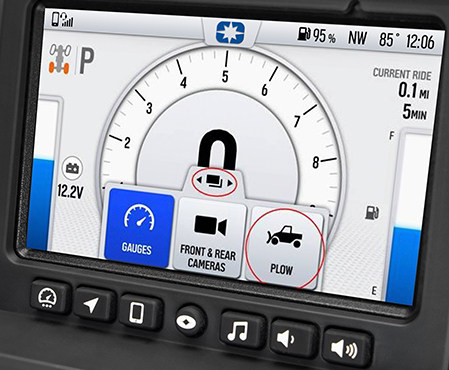 Plow Mode makes plowing quick and easy by automatically lowering the plow when shifting into low gear and raising the plow when you shift into reverse gear. Enjoy the ability to remove snow easier than ever before.
Factory-Installed In-Dash Display Available on These Models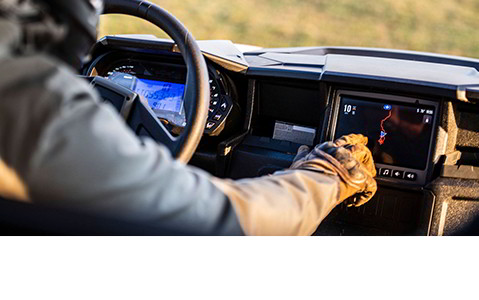 Upfit Your GENERAL with RIDE COMMAND
Take your off-road experience to the next level with RIDE COMMAND. Add a 7" display and mount kit to your GENERAL as an accessory to seamlessly integrate RIDE COMMAND technology into the dash for perfect fit and finish.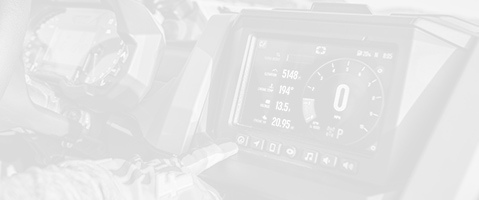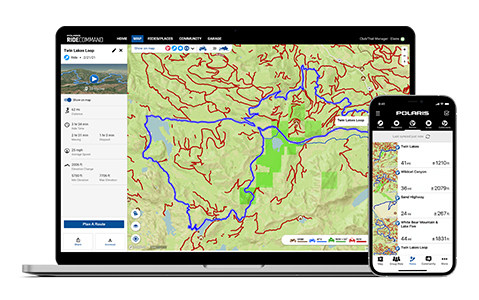 Interactive Map to Plan Rides
Using the RIDE COMMAND planning tools, you can create a multi-stop route and sync it to your in-dash display via USB, Bluetooth or Wi-Fi (if equipped) or follow along on the mobile app so you know where to go while out on the trails. You can easily share your planned route with friends so everyone knows the way. *

Your tracks instantly sync and come alive with 3D flyovers that even show photos from your ride. Share your favorite experiences with friends even after the ride is over.

Stay connected with your group whether out riding in the dunes or back at camp. Group Ride allows you to join a group to see your friends live location on the map.

Connect with Rider Community
Share and discover the best rides, places, and events in the RIDE COMMAND off-road Community. Save your favorites and load them right onto your RIDE COMMAND equipped vehicle.
Learn More About Ride Command
Check out these videos from within the Polaris Off Road family.
Pro Tips with RJ Anderson
RJ Anderson walks us through the new RIDE COMMAND features including Follow the Leader on Group Ride, Configurable Gauges and adding Points of Interest, like your favorite taco spot.
Pro Tips with Pat McArdle
Check out this Polaris Pro Tip to learn how to setup a Group Ride through the RIDE COMMAND technology integrated into your 7" glove touch in-dash display.
Pro Tips with RJ Anderson
Watch RZR athlete, RJ Anderson, share his favorite features of Polaris RIDE COMMAND.
*Availability of some equipment, options and/or features, including Wi-Fi connectivity on Ride Command models, may be limited or not available due to global supply issues affecting our industry. Please continue to build your vehicle and request local dealer price but be sure to work with your local Polaris dealer to ensure the vehicle you purchase includes all expected features and equipment.